UNITED STATES
HOLOCAUST MEMORIAL MUSEUM
CHAMBER MUSIC SERIES
STEVEN HONIGBERG, DIRECTOR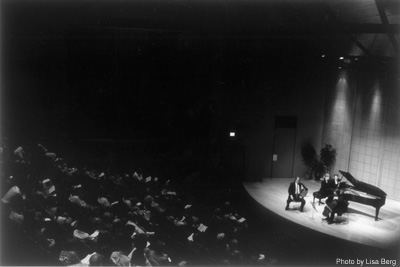 The Joseph and Rebecca Meyerhoff Theater
---
Voted 'Best New Chamber Music Series' of 1994 by the Washington Post, the United States Holocaust Memorial Museum was proud to present its chamber music series from 1994 to 2002 with Steven Honigberg as its director. The concerts included music by Józef Koffler, Ervin Schulhoff, Leo Smit and Laszlo Weiner, talented composers who perished at the hands of the Nazis, as well as works by Pavel Haas, Gideon Klein, Hans Krása and Viktor Ullman, composers who were permitted -- for a brief time -- to continue their creative activities while imprisoned in the Theresienstadt ghetto and concentration camp. The series also features works by Emil Frantisek Burian, Petr Eben, Paul Hindemith, Olivier Messiaen, Bohuslav Martinu, Dmitri Shostakovich and Moise Vainberg that evoke the suffering from these devastating times.
---
European émigrés such as Samuel Adler, Berthold Goldschmidt, Paul Hindemith, Erich Wolfgang Korngold, Ernst Krenek, Szymon Laks, Jean Martinon, Mario Castelnuovo-Tedesco, Alexandre Tansman, Ernst Toch, Franz Waxman, Karl Weigl, Kurt Weill and Eric Zeisl were also spotlighted. In addition, the series also explored Jewish and Hebraic themes by Joseph Achron, Tzvi Avni, Ernest Bloch, Julius Chajes, Aaron Copland, Paul Ben-Haim, Moses Milner, Joachim Stutschewsky, as well as Holocaust-related works by contemporary composers Herman Berlinski, Allan Blank, Joanna Bruzdowicz, Morris Moshe Cotel, David Diamond, Michael Cohen, Lubos Fiser, Lukas Foss, Benjamin Frankel, Osvaldo Golijov, Janice Hamer, Kent Holliday, Agi Jambor, Michael Karmon, Jonathan Kramer, Lori Laitman, Benjamin Lees, Leon Levitch, Max Lifchitz, Tom Myron, George Perle, Shulamit Ran, Simon Sargon, Jeffrey Schanzer, Michael Shapiro, Sheila Silver, Robert Starer, Robert Stern, and Lazar Weiner.
---
Of all composers of Jewish origin, Felix Mendelssohn caused Nazi propagandists the greatest difficulty. During World War II, the Nazis forbade the music of Felix Mendelssohn. By 1938, the Nazis had managed to remove Mendelssohn's name form all lists of recording and publishing catalogues throughout Germany. Nazis also demolished an immense monument of Mendelssohn that had been in place in front of the Leipzig Conservatory, which he had founded in 1843. No trace of the monument exists today. The music of Felix Mendelssohn was also featured on the music series.

Holocaust Memorial Music Series Discography


Music Performed in Concert from
The Chamber Music Series at the
Holocaust Memorial Museum
STEVEN HONIGBERG, MUSIC DIRECTOR

Paul Ben-Haim - Sonatina for Piano, Op. 38 (1946)
Robert Starer - Elegy For A Woman Who Died Too Young (violin & cello 1990)
Herman Berlinski - From The World Of My Father (cello & piano 1948)
George Perle - Hebrew Melodies for solo cello (1945)
Moisei Vainberg - Piano Trio, Op. 24 (1945)


Józef Koffler - Sonatine for Piano, Op. 12 (1930)
Szymon Laks - Passacaille for cello and piano (1946)
David Diamond - String Quartet No. 1 (1940)
Olivier Messiaen - Louange à l'éternité de Jésus (1940)
Mario Castelnuovo-Tedesco - Piano Trio No. 2 in G (1932)
Paul Ben-Haim - Music for Violoncello Solo (1974)




Robert Stern – Hazkarah for cello and piano (1998)
Tom Myron – Käthe Kollwitz (for soprano and string quartet 1998)
Lukas Foss – Anne Frank for cello and piano (1999)
Karl Weigl – Piano Trio (1939)




Leó Weiner – Románc Op. 14 for cello and piano (1921)
Robert Starer – Song of Solitude for solo cello (1995)
Erich Wolfgang Korngold – Don Quixote: Sechs Klavierstücke for solo piano (1909)
Benjamin Lees – Piano Trio No. 2 Silent Voices (1998)




(1887-1964)
Cello Sonata, op. 50 (1929)
Kathryn Brake, Piano
Concerto for Cello and Chamber Orchestra, Op. 35 (1924-25)
Eclipse Chamber Orchestra
Impromptu for solo Cello in Three Movements, Op. 90c (1963)




(1897-1957)
CHAMBER MUSIC
Piano Quintet in E Major, Op. 15 (1920-21)
Suite, Op. 23 for 2 Violins, Cello and Piano-left hand (1930)

---

Reviews:

Washington Post:
May 23, 2000
From the Holocaust, Music Hopeful and Horrifying (Headline)
"At first glance, cellist Steven Honigberg's ongoing mission - to perform the works of composers whose lives have been scarred by the Holocaust - may seem to be more a philosophical or political decision than an artistic one. The program Sunday, however, could have been selected entirely for its artistic merit, and the wonder is that its two Washington premieres haven't been heard here before...beautifully coordinated performance of a piano trio written in 1939 by Karl Weigl...world premiere of Benjamin Lees's "Night Spectres" for solo cello. Honigberg played it with an intensity and commitment that projected powerfully."

Washington Post:
January 25, 2000
From Terror, The Triumph Of Ingenuity (Headline)
"Herman Berlinski has composed volumes of music that, if it all lives up to the quality of the violin sonata "Le Violon de Chagall" heard Sunday, could be an immense trove of musical ingenuity and invention. It made one wonder how much the circumstances of history that interrupted his career have prevented his wider renown. The writing is bold and passionate, worked out on a very large scale and bristling with ideas."

Washington Post:
January 12, 1999
"Schanzer, whose text was based on his mother's recollections of World War II in Poland, explained, "We of the second generation who have access to information about the Holocaust must pass it down to the next generation." And indeed his musical narrative, with the impact of a black-and-white photograph, captures many shades of grief in a contrapuntal dialogue of insistent, recurring themes. Mezzo-soprano Patricia Green and Honigberg gave it a spellbinding reading."

Chicago Tribune:
September 3, 1998
Voices from the grave (Headline)
"...'Concert of Remembrance' at Ravinia's Bennett-Gordon Hall. Steven Honigberg led the musicians in a finely judged blend of modern music dedicated to the victims, as well as works composed by those who perished. Robert Starer's "Song of Solitude" for solo cello was written for Honigberg, and the dedicatee's persuasive playing gave this music full-hearted advocacy."

Washington Post:
June 4, 1998
Holocaust Museum's Concert Series Reverberates With Survival (Headline)
"The highlight of the day was the final piece: the world premiere of the specially commissioned Piano Trio No. 2 "Silent Voices" by American composer Benjamin Lees. In trying to blend the elements of drama, grief, and lyricism into a very compact musical statement, he has succeeded impressively. It was the right music for this museum and its impact was overwhelming."

Washington Post:
April 28, 1998
"Two Viennese composers, Ernst Toch and Erich Korngold, fled the Nazis in the 1930's, offering their talents to the Hollywood film moguls. Toch's Cello Sonata, Op. 50, is a steely collage of angular melodies, austere harmonies, percussive persistence and hefty counterpoint. Cellist Steven Honigberg and pianist Kathryn Brake charged it with pulsing energy and fiery lyricism."

Washington Post:
March 31, 1998
"Felix Mendelssohn was one of the most illustrious composers of Jewish descent banned by Hitler. His Cello Sonata No. 2, played ebulliently by the mother-son team of pianist Carol Honigberg and cellist Steven Honigberg, was a potent reminder of how much Germany lost by silencing his art. Shostakovich String Quartet No. 8 concluded the program. If these musicians left some earth unscorched, their playing was notable for its richness and quiet eloquence."

Washington Post:
February 3, 1998
Strains of Despair and Hope (Headline)
"Jonathan Kramer was present for the world premiere of "Remembrance of a People", for string quartet, bass and piano. Roger Goodman introduced each movement with verses distilling the tragic Holocaust memories that Kramer evokes. Perhaps most bitterly persuasive is "Past Joys, Present Sorrow": a sweet-and-sour waltz movement wrung by the pulsing memories of bygone rapture in conflict with the dissonances of a horrible reality. The performers powerfully conveyed the emotional tugs that war creates.

Washington Post:
June 24, 1997
"The world premiere of Song of Hope and Love by Polish composer Joanna Bruzdowicz, dedicated to the memory of Polish Jews who died in the Holocaust, inspired hope, not only for the improvement of humanity but also for the future of music."

Washington Post:
"Argentine Native Osvaldo Golijov's composition Dreams and Prayers of Isaac the Blind was brilliantly played yesterday afternoon as part of the museum's chamber music series, one of the most imaginatively programmed in this city."

Washington Post:
March 27, 1996
"The U.S. Holocaust Memorial Museum was venue to a fine chamber music recital Sunday afternoon when cellist and chamber music series director Steven Honigberg, joined by other gifted musicians, focused on music written by composers who lived through, or whose lives were touched by, the Holocaust."

American Record Guide:
Jan/Feb 1996
"...director of the U.S. Holocaust Memorial Museum's Chamber Music Series, a heralded addition to Washington's ever-vibrant chamber scene. With Starer himself serving as narrator, his Nishmat Adam (1992) automatically had first-person immediacy ... were a formidable team in all seven sections. By himself, Honigberg elevated the cello's role in 'The Instrument Is the Body; The Melody Is the Soul' to that of a one-man Greek Chorus."

Washington Post:
January 25, 1995
"Two masterpieces stood out in last night's concert at the U.S. Holocaust Memorial Museum ... The music director of this series, cellist Steven Honigberg has begun to find his way toward a concept that could give the museum a unique place in this city's varied musical life."

Washington Post:
January 1, 1995
"Best New Series: Chamber music programs
at the United States Holocaust Memorial Museum"

Washington Post:
December 15, 1994
"All the music was haunted, tender and vibrant. The high level of performance on the Holocaust Museum's series is unsurpassed in Washington."

The Strad Magazine:
November 1994
"Perhaps the most important was the launch of a series of chamber music concerts in the Meyerhoff Auditorium at the year-old United States Holocaust Memorial Museum ... was a thoughtful mix of 20th century repertoire including works by Messiaen, who was a prisoner of war, and Viktor Ullmann, Gideon Klein and Ervin Schulhoff, all of whom ended up in the gas chambers. The Honigbergs - Steven and Carol - brought to the performance a depth of commitment exploring the diverse melodic elements that have affinity to traditional Jewish music."