POTOMAC STRING QUARTET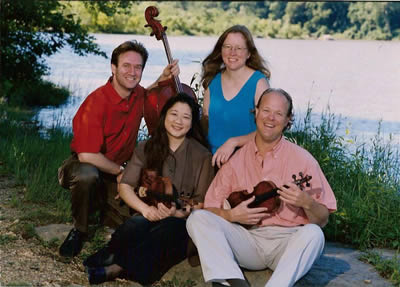 The Potomac String Quartet, founded by Steven Honigberg, has performed throughout the Washington DC area since forming in 2000. The quartet has been featured in performance on Voice of America, at the United States Holocaust Memorial Museum, Library of Congress, the Amadeus concert series, Lyceum chamber music series and Millennium series at the Kennedy Center. The quartet has established its excellence with its landmark recording releases on Albany Records of David Diamond's complete string quartets and Quincy Porter's complete string quartets ouvres.
Members of the Potomac String Quartet:
Violinist George Marsh has been a member of the National Symphony Orchestra since 1979. Mr. Marsh plays a 1758 J.B. Guadagnini, the "ex Joseph Silverstein."
Violinist Sally McLain received her Bachelor and Master of Music degrees with High Distinction from Indiana University, where she studied with and was assistant to James Buswell.
Tsuna Sakamoto, section violist of the National Symphony Orchestra since 1998, was born in Tokyo, Japan.
Potomac String Quartet Discography:
David Diamond Complete String Quartets


Volume One:
Concerto for String Quartet (to Albert Roussel 1936)
String Quartet No. 3 (to the memory of Allela Cornell In Tender Love and Devotion 1946)
String Quartet No. 8 (Chamber Music Award 1965)

Volume Two:
String Quartet No. 2 (to Edward Stringham in Friendship 1943-44)
String Quartet No. 9 (to Roger Sessions for his 70th Birthday 1965-68)
String Quartet No. 10 (for the Lywen Quartet 1966)

Volume Three:
String Quartet No. 1 (to Hermann Broch in one continuous movement 1940)
String Quartet No. 5 (for the Lywen Quartet 1960)
String Quartet No. 6 (to Darius Milhaud for his 70th Birthday 1962)

Volume Four:
String Quartet No. 4 (for the Guilet Quartet 1951)
String Quartet No. 7 (to Walter Piston for his 70th Birthday 1963-64)
Night Music for Accordion and String Quartet (to the memory of Wallingford Riegger 1961)
Here's what the critics are saying:

"The earliest work - a Concerto for String Quartet - dates from the composer's 21st year yet seems strikingly mature: Diamond was already writing with the lyricism, independence and meticulous craftsmanship that would be his stock in trade throughout his career. I find the ninth and 10th quartets, with their careful attention to counterpoint especially touching in the way that they seem to have been written against all the prevailing trends of the time. There is a lonely grandeur in Diamond's insistence upon affirming the fundamental elements of music - melody, harmony and counterpoint - during a time of wild experimentation. There is something to be said for steady, conservative craftsmanship, especially when it is accomplished with such consummate skill and urgency as Diamond has at his command."
-Tim Page Washington Post January 2005

"Like Beethoven, Bartók, Shostakovich, and Carter, Diamond is attracted to the string quartet medium as a place to rehearse salient and divergent musical ideas - from the most symphonic and sweeping gestures to the most intimate close-ups. Thanks to the efforts of the Washington, DC-based Potomac String Quartet, these pieces have finally been given their due. On the whole, the Potomac owns this music - they have taken this excellent material and made it theirs. Thanks to the bravery, dedication, and raw chops of the Potomac Quartet, you may now purchase this cycle and judge for yourself."
-Strings Magazine February 2004

"These are indeed 'quintessentially American' quartets, but in their formal logic, economy of motive and theme, boldness, force of thought, and serious - even exalted - emotional world, they are also just as much in the grand lineage that looks back to Beethoven. I'm grateful to the Potomac Quartet, which plays with fierce intelligence and unstinting devotion, for embarking on this long-overdue series of one of the great modern quartet cycles. This music needs to be heard."
-American Record Guide March 2003

"This is one of Diamond's most moving works (No. 3), and among the most beautiful quartets penned by an American - why it has not yet entered the repertoire is difficult to fathom. The Potomac Quartet give passionate performances throughout, full of joy and discovery. Not to be missed"
-Gramophone, June 2002

---


(1897-1966)
Nine Quartets - 2 CDs

Disc One:
String Quartet No. 1 in E minor (1923) 19:44
String Quartet No. 2 (1925) 12:36
In Monasterio (1927) 5:11
String Quartet No. 3 (1930) 16:02
String Quartet No. 4 (1931) 13:10
Our Lady Of Potchaiv (1923) 2:32
Scherzo (1923) 2:51
Fugue (1941) 2:17
Total = 74:40

Disc Two:
String Quartet No. 5 (1935) 16:04
String Quartet No. 6 (1937) 18:36
String Quartet No. 7 (1943) 15:48
String Quartet No. 8 (1950) 14:45
String Quartet No. 9 (1958) 13:10
Total = 78:29
Here's what the critics are saying:

"This virtuosic group has the skills, emotional commitment, and artistic panache to bring off the most technically difficult passages of Porter's string writing with brilliance, and it makes each of the parts feel independent and equal, thereby fulfilling the main goal of quartet playing. Yet as solid as the group is in execution, it is in interpretation that it has excelled. With no prior recorded legacy, these performances explore new realms and present the composer's most important works with a confidence that makes them feel authoritative. The Potomac String Quartet will likely be associated with Porter's work in much the same way as the Juilliard Quartet became identified as the premier interpreters of Bartók's cycle. This is a major achievement that deserves serious attention and warrants a high recommendation for its admirable performances. Anyone who takes modern American chamber music seriously will value this package."
-Blair Sanderson, Classical Corner May 2007

"Porter displays a sense of melody all his own, as well as a wonderful instinct for setting it off against a nervous, complex rhythm telegraphing a great range of possible meaning... The performances are remarkably fine.
-David Patrick Stearns, Philadelphia Inquirer May 2007


"This remarkable release of Quincy Porter's nine string quartets (plus a few smaller works for the same forces) should help to establish the composer as a force to be reckoned with in the world of American chamber music. The basic musical language is tonal, liberally peppered with chromaticism--but most importantly the melodic invention throughout these pieces is strikingly memorable. Deft counterpoint, springy rhythms in fast movements, plenty of textural variety, and singing slow movements characterize all of this music. As with its excellent series of Diamond quartets, the Potomac Quartet deserves great credit for digesting such a large amount of music and presenting it so winningly."
-David Hurwitz, ClassicsToday.com April 2007


"These quartets have a quality of interiority that relies little on surface appeal and requires concentration and repeated acquaintance to fully reveal itself. Porter was not afraid to be quiet, to be drawn into the silence, and then to express what the silence contains. Whatever they may lack in immediate appeal or overt drama, these quartets make up in staying power and priceless intimacy. These private ruminations are what string quartet writing is for. The Potomac String Quartet takes us on this inward journey with some exquisite playing, especially notable in some of the extraordinarily fine adagios. This is a major contribution."
-Robert R. Reilly, Crisis Magazine Summer 2007
"The value that Porter finds in the classic ideals of clarity, balance, order, restraint, even perhaps a certain stoicism - his skepticism of the faddish and noisy, his faith in long-tested canons of beauty - suggest a disillusioned but humane view of life. Listen, for example, to the Sixth Quartet's Adagio; it is impossible not to think this dulcet, gently sad beauty, with its softly throbbing heartbeat that grows to an aching (but never strident) climax, then sinks back into quiet acceptance, comes from deeply-held convictions and deeply-felt emotions. And how perfectly this quartet's finale, a dance-like but sweetly singing allegro giocoso, consoles and reinvigorates, after the Adagio's sorrows. The admirable Potomac Quartet has done a great service for American chamber music in recording the complete quartets of both Porter and David Diamond. These superb musicians play with sensitivity, lustrous tone, and the joy of discovery."
-Lehman, American Record Guide July/August 2007